COVID UPDATE: June 2020
June 12, 2020
Maria Nolan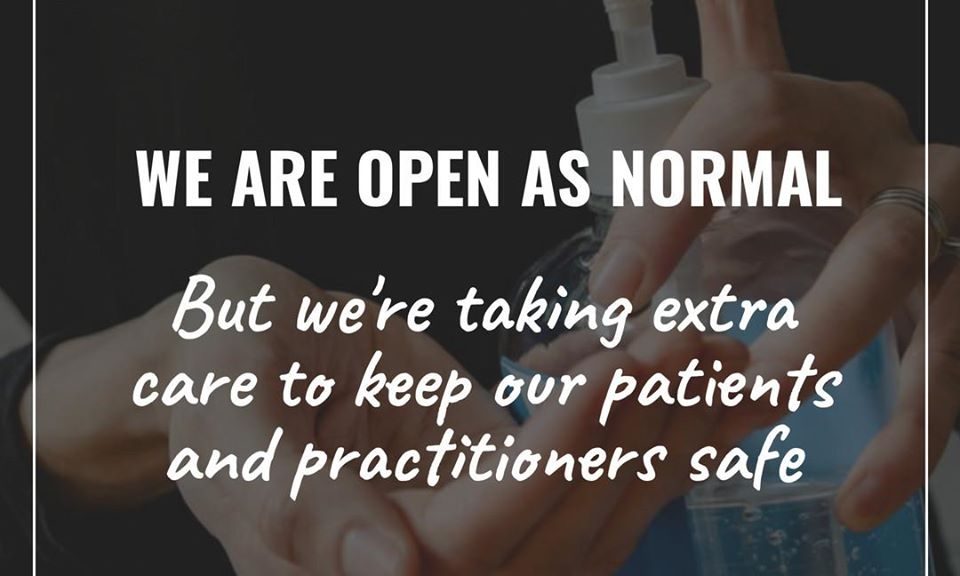 WE ARE OPEN AS NORMAL
We hope you and all your family are keeping well during these strange and uncertain times.
We've had such a positive response from our lovely patients since we re-opened the Henley and Thatcham clinics in May and our new COVID-19 protocols are working great. We are all adjusting well to our new way of working and we are so happy to be back helping our patients out of pain and injury 👏

We will continue taking all the extra precautions needed to keep our patients safe when they visit us in clinic. There have been some updates since our last COVID-19 post so here is a quick summary.

WHO CAN WE TREAT?
No patients groups are excluded from treatment 🙌
However, we will not treat anyone who has a confirmed or suspected case of COVID-19. We are screening patients prior to their appointments to ensure a face to face appointment is appropriate.
So if lockdown has left your body feeling locked-up, we're here for you! 👐

We've been helping a wide range of patients in clinic over the last few weeks who have developed pain as a result of;
Working from home
DIY or gardening injuries
New found hobbies
With joint injections and surgeries postponed, our team are also helping patients find better coping strategies for their pain in the meantime.

CLINIC UPDATES
Our Newbury clinic has moved and is now located at the same location as our Thatcham clinic. The address is Orchard Life Health Centre, Bath Road, RG7 5UU.
From 1st July, Gary will be seeing patients at the Thatcham clinic, alongside Danielle. If you have been to see Gary or Rebecca at the Newbury clinic, you can book an appointment in our Thatcham (or Henley) clinic. Your osteopath will have access to all of your previous treatment notes so they will be able to pick up from when you last came to see us.
If you would like to book an appointment with Danielle or Gary, you can do so here
Sian is now back working in our Henley clinic with Maria. If you would like to book an appointment in our Henley clinic you can do so here
We appreciate you may still have more questions for us so please do not hesitate to get in touch. We are here to help you.

CALL: 01491 281972 or 01635 597290

Take care and we hope to see you soon 🙏

The Nolan Osteopathy team